Ever toyed with the idea of running your own blog? If so, you're probably over there scratching your head, wondering just how long it's gonna take to get your blog noticed on Google and start making money.
There's a whole bunch of income reports from blogs out there boasting about their monthly six-figure earnings. Now, I'm not saying that's impossible, but it's more of an exception than the rule. Newbie blogs usually don't rake in that kind of cash.
The big-time blogs that keep pulling in those jaw-dropping figures each month are usually the ones that have been around the block a few times. They've got a team of writers churning out thousands of articles like there's no tomorrow.
But hey, don't let that get you down. You can still make money from your blog. The tricky bit is loads of folks jump into blogging with sky-high expectations and then bail just when things are about to get interesting.
The fact is, blogging takes patience.
So, to give you a real-deal look at blog growth from the very beginning, I'm gonna share the growth reports from my own gardening blog. This is the little side gig that I work on when I can squeeze it in; it's not a full-time job…and I AM my team of writers!
In case you missed it, here's April's blog growth report.
April vs. May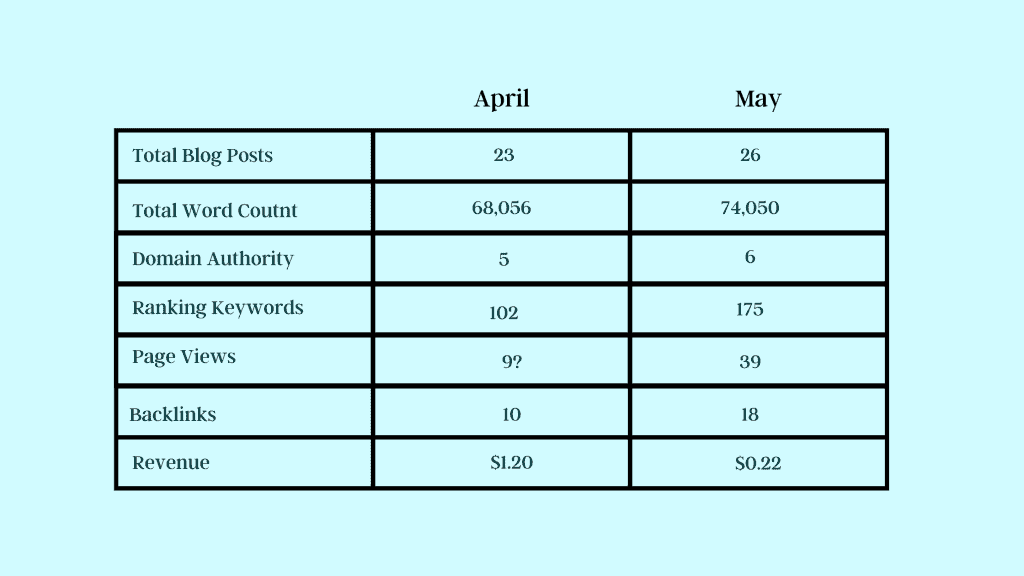 Google Analytics Reports: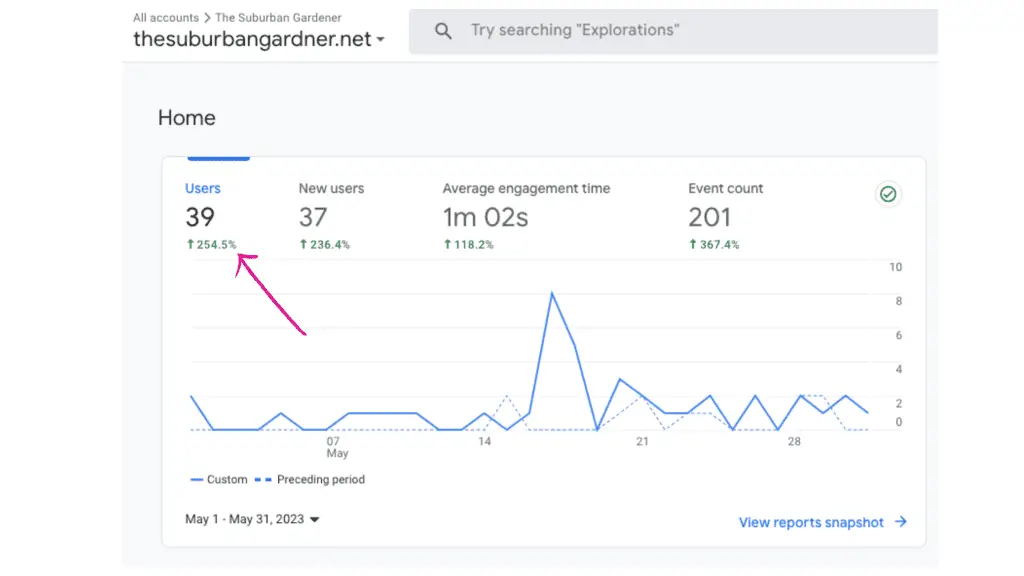 So, Google Analytics shows I clocked in 39 visits in May, and 17 of those were pure organic traffic. I gave my blog a shout-out in an email blast to my mailing list, which bumped up the views a bit. But snagging 17 organic visits is still a big deal, considering most blogs don't start popping up in search rankings until they've piled up at least 100,000 words. So, I'm chalking this one up as a win.
Keyword Report: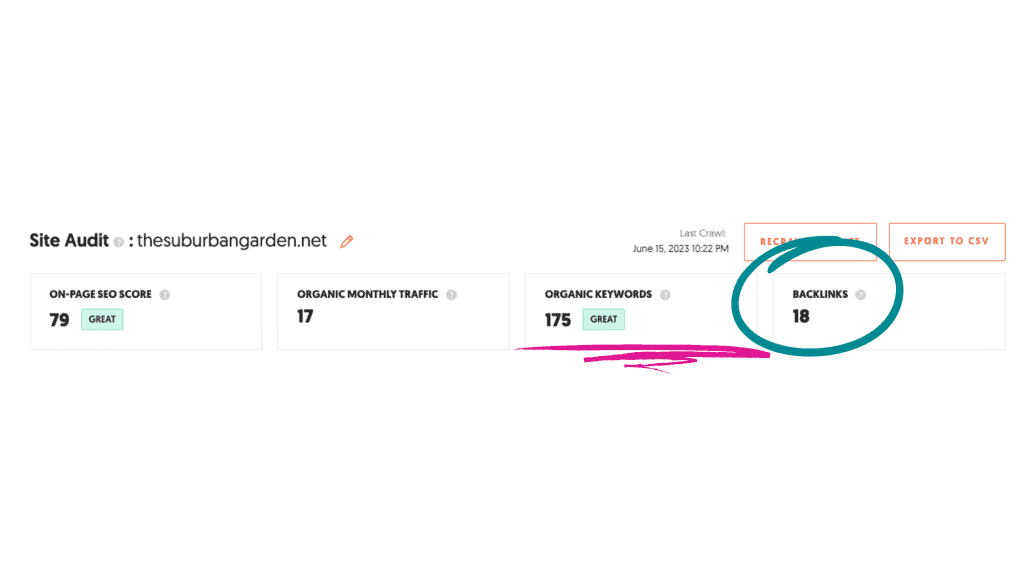 Ubersuggest tells me that my gardening blog is now showing up for 175 keywords on Google. That's an increase of 73 keywords from last month, which is pretty awesome. Plus, I've managed to move 7 more keywords into the top 25 ranks, bringing the total to 14.
How am I ranking for so many keywords?
You might be wondering, with just 23 blog posts on my fresh-out-the-box gardening site, how the heck am I ranking for a ton of keywords? Well, the answer is pretty straightforward. Each and every blog post on my site is juiced up with a solid SEO strategy, the same kind I share in my blogging membership, Creative SEO.
But it's not just the blog posts getting the SEO magic. I've also fine-tuned my website by going for a light theme, putting the pedal to the metal on site speed, and giving some love to off-page SEO, including lots of backlink building. Back in April, I only had 10 backlinks pointing to the site, but I managed to pump up those numbers to 18 in May, even snagging a backlink from a heavyweight site with a DA of 68.
Monetization:
I've loaded up my gardening site with Amazon affiliate links and rolled out ads in the final week of May. Given that my site's traffic is still just a trickle, I'm not holding my breath for a big payday yet. But once the traffic starts picking up speed, I'm hoping those numbers will start to climb.
Plans for June:
So, what's on my to-do list for the upcoming month of May? First, I plan to punch out at least 4 new blog posts. Next up, I'll be double-checking that all of my posts are indexed – that's a job that never seems to end. Also, I'm going to get my posts organized into categories and sort them into silos. Unfortunately, I couldn't get around to this task in May because time just slipped through my fingers.