When I first began teaching, I was really bad at the business side of running a studio.  I wanted to be all about the art and creativity and hated talking about money.  I had an ambiguous payment policy and I am lucky that most of my students paid me…eventually.
As private teachers, collecting payments is one of the most unpleasant business matters we have to deal with.  In many cases, we are communicating with the students who take lessons rather than the parents themselves, which makes discussing payment even more uncomfortable.  
Whether you run a big studio or just have a few private students on the side, you should be paid for the services you provide and it is up to YOU to make sure payment is received in a timely manner. 
So how do you get students to pay on time?
Let's take a look at five ways that ensure you get paid regularly so you can stop spending all your free time chasing down payments. 
This website is reader supported and contains affiliate links. If you make a purchase through any of the links on this page, a small percentage of your purchase is credited to us at no additional cost to you.
1. Treat your studio like a business
Your studio is a business and you need to treat it like one.  If you get a haircut, massage, or go to the doctor, you are expected to pay for the service you received. Private music lessons are no different.  Would you walk into your hair salon, get your hair cut, and then say "I will pay you next time?" 
Your studio is providing a service, and your clients should pay you for that service.  
We often feel guilty asking children week after week if they remembered to bring their lesson money, but if you expect students to pay on time, you need to treat your studio like a business.  Make your payment policies clear, and remember that your students and their parents are your business clients.  
Keep detailed records
Keeping detailed records is a key element in running any successful business.  As a private teacher, if you expect to get students to pay on time, you need to keep up with how many lessons each student had, how much they paid, and how much they owe.  
Unorganized records are a sure way to NOT get paid the money you are due.  Whether you are dealing with a client who is certain they paid already or you get audited by the IRS, organizing your studio records will help you avoid many headaches down the road.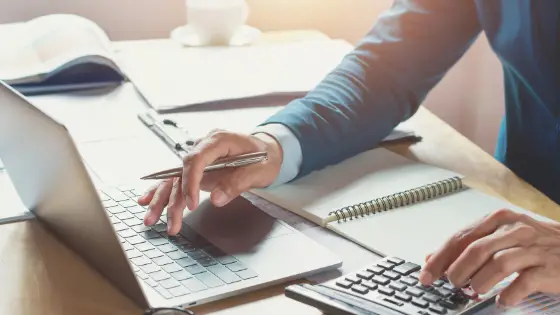 Consider bookkeeping software
A student asks how much they owe for private lessons and you have to fumble through the calendar counting how many lessons they have taken, only to give them a guess because you don't remember the last time they paid.  Does this sound like you?  As musicians, we have the creative minds of an artist but sometimes the business side of teaching gets left behind.
Bookkeeping software is probably the most efficient way to keep up with your payment records, and while there are many options to choose from, Music Teacher's Helper is designed specifically to support private music teachers.
Music Teacher's Helper is an on-line software that makes billing for music teachers a breeze.  It does everything from billing and lesson scheduling, to sending out automatic parent reminders and creating tax reports.  
Professional looking invoices can be sent out automatically with payment reminders and parents can make payments online using a credit card.  You can even set up recurring charges so you never miss a payment again.  
This cloud-based software can be accessed from any desktop, laptop, tablet, or smartphone making it perfect whether you are working out of a home studio or on the road. Music Teachers Helper pricing varies based on the size of your studio so there is a plan for everyone.  
Other great bookkeeping software includes Freshbooks and QuickBooks Self-employed. These cloud-based programs allow you to quickly send invoices and track mileage and expenses from your computer or mobile device. Quickbooks also will automatically keep up with your estimated quarterly taxes and you can view everything on one easy-to-see screen. To try it out, use my QuickBooks Self-employed referral link to save 50% off your first 6 months.

2. Make payment expectations clear 
Do you charge by the lesson or use a monthly, tuition based payment system? Do you accept payments weekly, at the beginning of the month in advance, or at the end of the month after all lessons have been taught?  All of these systems have merit but your payment expectations should be clearly laid out when the student first signs up for private lessons. 
Use a studio contract
A studio contract is a great way to ensure all of your policies and expectations are clearly explained to both students and parents when they sign up for private music lessons. 
Having a clearly laid out policy sheet is the easiest way to deal with delinquent accounts.  If you think about it, we use contracts every day.  The lease on your apartment, the loan documents on your car, the user agreement for your credit card are all contracts so why not use a contract in your music studio? Making sure your payment policy is very clearly outlined in your studio's private lesson contract is a great way to ensure parents pay on time. 
Have a clear cancellation policy
Make sure your cancellation policy is clear up front. How much time should a client give you before a missed lesson?  24 hours? 48 hours?  What if a child wakes up sick or there is a family emergency?  
Failing to have a clear cancellation policy will result in you not being paid for a last minute cancelation.  Your time is valuable and waiting around on a no show when you could have scheduled another student or done something else is frustration.  
Stick to your policy and be firm.  Allowing a missed lesson or two slide, sends an unprofessional message that will lead to clients taking advantage of your kindness in the future.
3. Send invoices
When it comes to treating your studio like a business, sending out regular invoices is a must.  While this seems obvious, many teachers fail to implement this step into their business model.  Sending a monthly invoice sends the clear message that payment is expected and clearly states when payment is due. 
You can create invoices using a word processing program and save them as a PDF to email to clients individually.  If you decide to go with bookkeeping software like Music Teacher's Helper, you can generate invoices automatically, saving you a ton of time. 
4. Accept a variety of payment methods
The recent surge in online lessons has further complicated matters when it comes to accepting payments.  Many parents who are used to paying by cash or check are hesitant to switch to a new payment method, but the old standard of paying for private music lessons with cash or a check is no more.  
While cash and checks are still perfectly viable payment options, the world of ecommerce has exploded, providing us with a number of ways to accept payments. 
PayPal
Originally, PayPal was associated mainly with the online auctions site eBay, but in the past few years, PayPal has become a widely accepted method of payment both online and off. 
All you need to accept payments through PayPal is a free account and an email address. You can accept touch free payments by downloading and displaying your personal QR code or by sharing your PayPal.me link.
Paypal charges 2.9% + 30 cents per transaction to sellers using their service but that fee is considered a tax deductible business expense, and you can bypass it altogether if the customer pays you using the "friends and family" option.
Venmo
Venmo is a digital wallet similar to PayPal…It's actually owned by PayPal…but it is limited to use in the US, whereas PayPal can be used for international transactions.  Venmo is a popular app for private music lessons because it allows a client to pay you instantly.  Like PayPal, it can be used to make and receive payments.  The main difference is PayPal is widely used by businesses, while Venmo is primarily used for transactions between friends.
While you need an email address for your PayPal account, since Venmo is solely app based, you will need a phone number to get it set up. Once your account is set up, customers can scan your QR code to send payment, or send it using your Venmo username.  
Square
While Square is not for every business model, many small business owners find it is the perfect fit for their needs. The fees and pricing are similar to that of PayPal but when you sign up for a Square account they will send you a magstripe credit card reader that you can plug into your phone or tablet, allowing you to swipe customers credit cards in addition to accepting payment through the app. 
Cash app
Cash app is owned by Square and like Venmo, it is a free way to send money.  While venmo allows customers to pay using their credit card, debit card, or bank account, Cash app will allow them to also use Google Pay and Apple Pay.  
Customers can pay you instantly using your phone number or Cashtag.  Unlike Venmo, Cash app can be used internationally.
These are just a few of the many different payment methods out there, and the great thing is, you don't have to accept just one.  Being open to accepting multiple methods of payment will make your customers happy that they can use a method they already know and are comfortable with and it will get you paid faster!
5. Consider monthly tuition
One way to guarantee regular income as a private music teacher is to switch from a per lesson payment plan to a monthly tuition based payment plan.  The most common way to calculate monthly tuition is to add up how many lessons are in a calendar year, multiply by the lesson fee, and then divide by 12.  For example: 42 lessons per year x $40 per lesson = $1,680.  $1,680 / 12 months = $140/month.  
Charging monthly tuition rather than by the lesson rates, allows you to maintain a consistent monthly income throughout the year and allows your clients to budget in a regular monthly payment.
Other ways to get paid on time 
Send a reminder email
Rarely does a parent intentionally not pay you.  We all get busy from time to time and forget the little things.  If a student is behind on payment, send a gentle reminder email.  Be sure to include instructions for how to pay quickly and conveniently online. 
Add a late payment fee
For those students who regularly miss payments, consider putting a late payment charge in your lesson contract.  You can always choose not to charge a late fee but if may provide some incentive to parents who consistently pay late.
Schedule online monthly payments
Several of the online payment options will allow you to store a customer's credit card information.  If you choose to go this route, you can let students and parents know that their credit card will be charged at the beginning of each month on a given date.  Many parents jump at the option for automatic payments since it alleviates the need to remember to write a check each month.
Accept credit cards on site
Finally, accepting credit cards on site using the Square magstripe reader means the "I forgot my checkbook" excuse is a thing of the past.  While you will have to pay a small transaction fee, you will be guaranteed payment that day.
Follow me on Instagram for more great content!